Dog poop. Thermostat at 70. Wolverine cat.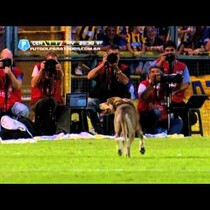 Posted February 18th, 2014 @ 9:24am
I blame girls with handbags. Your dogs are loose all over Phoenix.
For you cord cutters who still consume your favorite shows...
I'll have you know Isley hasn't siht in the house as all in the 5 full days I've had her.
Guardians of the Galaxy debuts with Chris Pratt on Kimmel tonight, but here's some new stills. On the 1 to X-Men: DOFP scale, I'm a excited 7 for GOTG.
Michael Sam is gay. Big deal. Ex-NFL player Darren Sharper is accused of being a serial rapist.
Leave your thermostat at 70 and you'll lose weight.
Wolverine cat. For real.