Meet a 23-year-old Bearded Lady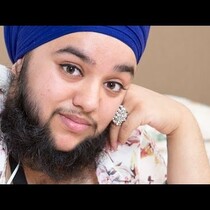 Posted February 19th, 2014 @ 6:06am
The BBC ran an story about a 23-year-old woman from the UK that has a FULL BEARD!

TO READ MORE ABOUT THE STORY CLICK HERE

Harnaam Kaur has a genetic condition that causes her to grow facial hair. She started growing a beard and mustache at age 11. A few years after she was diagnosed, she converted to Sikhism, so she let the beard grow out.