Disabled puppy. Moose attack. Eminem is art. More. 2.17.14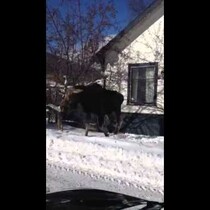 Posted February 17th, 2014 @ 9:17am
From the NY Toy Fair, Transformers toys I'll pick up. Or you can look at this as the full reveal of AOE characters. Here & here.
It's a tiny disabled puppy and a baby chick.
Pop critic says Eminem is today's only true artist in music.
A moose attack.
This story is everywhere. A snake handler was killed by a snake bite.
I promise I didn't get a second dog to find love.
Good for Ellen Page! I'm still not a fan of the movie roles I've seen her in. Specifically in Inception.