Wedding Planning Tips. Cheerleaders Visit. Obesity Jobs.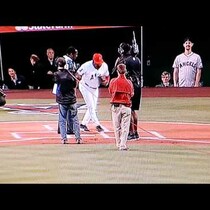 Posted April 1st, 2014 @ 10:08am
On her 11th birthday she had a wedding.
Some pics of the insanity at Ultra in Miami.
Can you confirm? Biggest party school in Ohio is in Athens?
You saw the trailer and got excited, now TMNT is being bumped back to late this year.
NFL cheerleaders will visit you in your seat. It's some money and another step away from a lapdance.
If you're worried about the plague from being around large rats, you just might be OK.
Change the font and save $400 million. Duh.
The Batman. Wonder Woman and Justice League movies have all been marked on the calendar. But note today's date as well.
Which jobs might lead you into obesity?
14 genuinely helpful wedding planning tips. I will never need these.
This sucks. A coach for the Angels who was catching the ceremonial first pitch broke his ankle doing so.