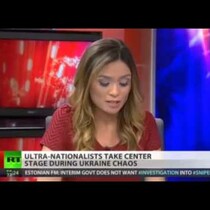 Posted March 6th, 2014 @ 6:07am
Liz Wahl is a reporter for the American version of Russian state television. The network is an English-language network that covers Russian news, and is sponsored by the Russian government.

Yesterday, Liz resigned LIVE on the network.




This wasn't the first problem that network has had since Russia invaded Ukraine. Liz's colleague Abby Martin went off on the network earlier in the week.